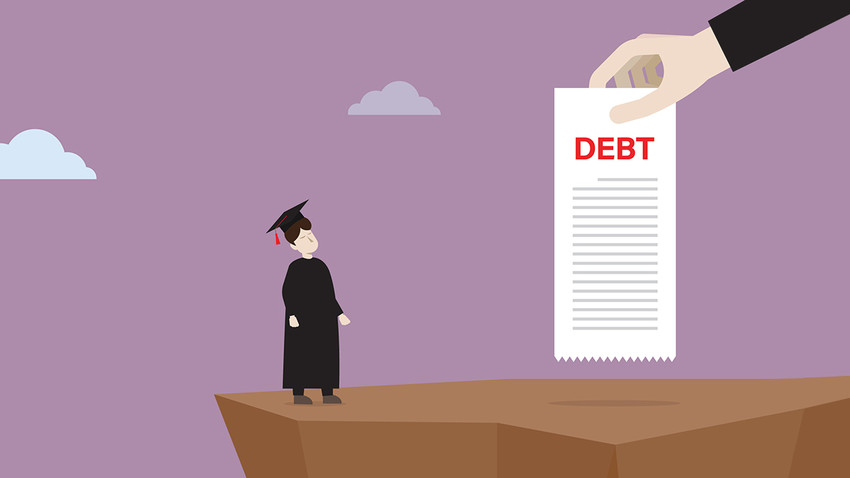 April 20, 2022
"Immediate Forgiveness" for 40,000?
What's not to like about this "headline" yesterday from the U.S. Department of Education? In an April 19 tweet the department "announced steps to address historical federal student loan program failures, helping at least 3.6 million federal student loan borrowers move closer to forgiveness—including immediate forgiveness for ~40,000 borrowers" (go.usa.gov/xuZXM). 
Did you catch that? "Immediate forgiveness for ~40,000 borrowers."
Anybody with a student loan these days knows the surprise good news embedded in that headline! Kirk and Chelsea, our son and daughter-in-law, are fondly reminded of their happy days at Andrews University (where they met) every time another student loan payment comes due. I can imagine this headline has already triggered a huge sigh of relief across the land.
"Immediate forgiveness for at least 40,000 borrowers"—sounds like a headline from Heaven, doesn't it?
What sinner wouldn't love to receive a press release from God announcing "immediate forgiveness" for their sorry record of unimaginable indebtedness to purity and morality and kindness and honesty and other integrity challenged, unloving ways of sinful living?
Just a few days after Easter as we are now, turns out there is a loan-forgiveness you can take to the Bank of Heaven! Remember that stunning Good Friday prayer Jesus breathed aloud for His executioners? "'Father, forgive them, for they do not know what they are doing'" (Luke 23:34). Let's be honest—it hardly seems plausible, much less possible to buy the suggestion that those who were nailing Jesus to the cross, who had already scourged Him with that brutal flogging, did not know what they were doing. Of course they knew! Some of them no doubt even relished the chance to torture the Prisoner the way they did. "Father, forgive them?"
Talking about an "immediate forgiveness" news flash. But actually, the headline gets even more stunning and expansive. Brood over this line from Desire of Ages: "That prayer of Christ for His enemies embraced the world. It took in every sinner that had lived or should live, from the beginning of the world to the end of time. Upon all rests the guilt of crucifying the Son of God. To all, forgiveness is freely offered. 'Whosoever will' may have peace with God, and inherit eternal life" (745, emphasis supplied). Read it one more time just to make sure you read it right.
"[Jesus' prayer of forgiveness] took in every sinner that had lived [our ancestors] or should live [us], from the beginning of the world [Adam and Eve] to the end of time [sinners yet to be born]."
Almost unbelievable! "Immediate forgiveness" not just for 40,000—but forgiveness for billions and billions of sinners past, present and future! I'm not making this up. All because of that suffering prayer from the Man on the center cross.
But of course—reality-check-time means that just like the student loan borrowers, everyone of us has the choice to believe the headline or to dismiss it. The Department of Education can announce the student loan forgiveness provision, but every borrower is still free to choose whether to believe and receive the forgiveness or to go on month after month after month trying to pay off a loan that seems forever. 
How sad not believing and receiving turns out to be. Which is why I invite you to breathe the prayer right now that claims this promise of "immediate forgiveness": "Dear Savior—I bow before the profound recognition that Your prayer on Calvary was breathed for me, too. And so I cry out, 'Me, too!' I gratefully receive Your immediate forgiveness of my awful debt from my terrible sins—past, present and future. May the peace of your grace now sweep over my grateful and forgiven heart. May the strength of Your courage enable me to seek forgiveness from those I've wronged. And as I have freely received from You, even so let me freely give to those who need my forgiveness, too. I love You back, Jesus. Every day. Forever. Amen."