January 7, 2010
Do you really think new "pat down" measures at the airport will make air travel more secure?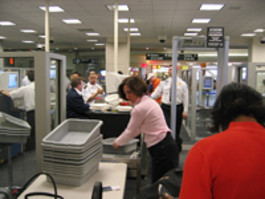 Do you really think new "pat down" measures at the airport will make air travel more secure? I read a piece by syndicated British columnist Gwynne Dyer, and I'm afraid he's right. In response to the Christmas Day attempt to bring down that Detroit-bound airliner through concealed explosives on one of the passengers, government officials have had to devise some sort of official "upgrade" to our present travel security to assure the traveling public that the skies once again are "friendly." Dyer comments, "It is the duty of all public officials to 'do something' whenever a new threat appears, even if there is nothing sensible to be done." The truth is that profiling international travelers by nationality or country of birth or origin (as the new security regulations do) not only lumps vast numbers of innocent people into the category of "suspicious" (or, guilty until proven innocent), it assumes that terror and terrorists are limited to these watch-listed nations (which is hardly true). And as for hand searches, most agree that the only effective method of full-body screening would need to include "body cavity searches." And the public will not stand for that, will we?
So shall we then despair of air travel this New Year? Hardly! Dyer responds that we are still fifty times more likely to succumb in an automobile than in an aircraft. His point?  "Accept that nothing is perfect" (SBTribune 1-6-10).
My point? There is no ultimate travel security through technology or by regulation. Just ask the Apostle Paul, who himself was shipwrecked three times, spending "a night and a day in the open sea" (II Corinthians 11:25). The compelling reality is that as children of the Heavenly Father our deepest dependence must always be on him. Which is why that great Psalm of the Reformation, the one that inspired Martin Luther's "Ein' feste burg ist unser Gott" ("A mighty fortress is our God"), opens with the strong assurance of ultimate divine security: "God is our refuge and strength, a very present help in trouble. Therefore will not we fear" (Psalm 46:1, 2). No fear with him!
What more reassuring promise could there be for you and me to daily claim this uncharted New Year? Yes, on land and sea or in the air, we'll depend upon the vigilance of our governments to do all in their power to protect the traveling public. And as friends of Christ and obedient citizens of our countries, we will (to the best of our ability) cheerfully submit to the measures that will impinge upon us. (I tried to remember that as I was pulled out of line for a full body "pat down" at the Johannesburg South Africa airport just before Christmas—and here I thought I looked rather honest!) But in the end whether abroad or at home "God is our refuge and strength." And he will be our help 24/7 in the voyage before us.  And besides, when God "pats down" your day before you even get to it, what could make your journey more secure?