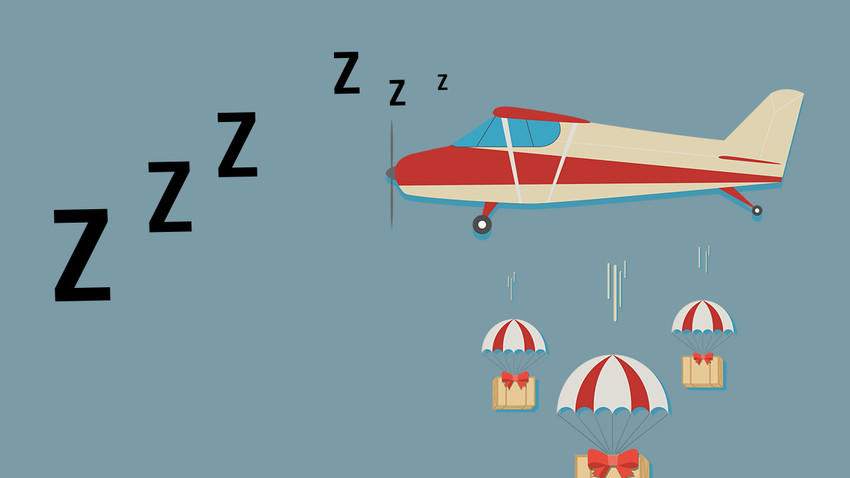 December 19, 2018
Gift Deliverer Falls Asleep At The Wheel
This is not a story about Santa Claus falling asleep on his sleigh. First of all, none of us believes in Santa Claus. Secondly, how could you possibly fall asleep while piloting your flying reindeer around the world! And third, this story's true.
Having just survived a personal crisis with paid leave, a commercial pilot (unnamed and understandably so) checked back in to work with his company Vortex Air (Melbourne, Australia). He was glad to be back, and they were glad to have him.
This morning (6:20) his assignment is to fly a payload of freight from Devonport City on the island of Tasmania 155 miles northwest to King Island in the Bass Strait. As he straps into his twin-propeller Piper PA-31 Navajo Chieftain, the pilot runs through the usual pre-flight routines in preparation for his delivery. All systems are go, the control tower signals he is cleared for takeoff, and our commercial pilot is soon roaring up the run way and into the blue heavens. So far, so good.
When you fly commercial freight, there aren't a whole lot of options for conversation. No flight attendants because there are no passengers, just stuffed boxes. What's more these small puddle jumpers don't even require a second pilot aboard, given the shorter flights that deliver the goods. Christmastime or not, the packages must still be flown in. He knows the drill.
What he doesn't know is what happens next.
According to a statement released by the Melbourne based airline, the pilot "unintentionally fell asleep while in command of the aircraft."  "The issue became apparent when air traffic control was unable to contact the pilot in-flight," the statement went on—he was on auto-pilot (www.apnews.com/49ad75212fa145acbba1986302f79e88 ) .
Air traffic records indicate numerous radio calls were made to the sound-asleep pilot without any response from him. Radar records show he overflew his destination by 29 miles, when he suddenly awakened to discover his dangerous overshot. Switching off auto-pilot our pilot friend circled back to King Island and landed his freight plane without incident.
"'Vortex Air takes the safety of our passengers, crew and pilots extremely seriously and always abide [sic] by all safety procedures,' the airline said. 'This is an extremely rare occurrence, as demonstrated by the company's excellent safety track record,' it added. The company said it was assisting the pilot to 'safely return to full duties'" (ibid).
Needless to say authorities from the Australian Transport Safety Bureau and the Civil Aviation Safety Authority "are investigating the incident and the company's management of pilot fatigue."
Three cheers for the sleepy but now wide awake pilot! After all who of us hasn't fallen asleep at the wheel or on the job?
But one of the melancholy truths tucked deep inside the Christmas story is the obvious reality that the people of the Advent—you know, the ones who for centuries had been reviewing the promises and rehearsing the prophecies of the Messiah's coming—were sadly asleep on the night the Messiah arrived. Running on auto-pilot all these fruitless and now pointless years and sound asleep when the greatest and most spectacular arrival of a Baby in the history of the universe took place, they zzz'ed away their golden opportunity to welcome the King of all kings and the Lord of all lords.
"God of heaven, wake us up!" is how the American writer Ellen White once warned of a potentially similar debacle brewing today (Last Day Events 26). "Surely, not I, Lord!" "Not me, Jesus, not me!" And of course, none of us could ever fall victim to the same dark enemy's same dark bewitchment: sound asleep when Messiah comes.
And the good news is we don't have to. We can have the same gift the Messiah had when He was with us! "He wakens Me morning by morning, wakens My ear to listen like one being instructed" (Isaiah 50:4). Need to be aroused and awakened to the reality of the times in which we are living? Me, too. Then why not this Christmas ask God for this extraordinary gift of divine awakening, morning by morning, His voice calling us to begin the day with Him—alert, awake and ready for action.
Here's His promise: "Those who place themselves under God's control, to be led and guided by Him, will catch the steady tread of the events ordained by Him to take place" (Last Day Events 15).
No auto-pilot, no sound asleep. This New Year grant us ears to hear the footsteps of our approaching God.