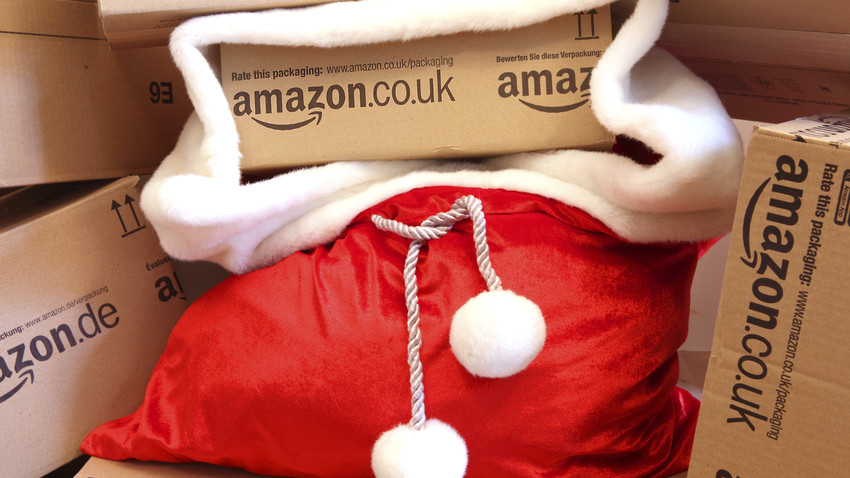 December 30, 2015
Amazon's New Year's Resolution
"Return that gift before you get it." Leave it to Amazon.com to "solve" our gift-receiving woes! The mega online mail-order giant reportedly has come up with a solution to those gifts from "Aunt Mildred" you've never known what to do with—from "The Stallion Stable Music Box" that must have been a beauty on the computer screen but turned out to be a White Elephant under the Christmas tree, to "The Thread and Bobbin Sewing Kit" that, truth be known, will never see the light of day. "These gifts sent via some warehouse many miles away are not only unwanted, but also a multimillion-dollar headache: They have to be repacked, labeled, dropped off and shipped back to Amazon's Island of Misfit Toys." After which a new present will have to be "packed, labeled, and shipped again. Efficient, the process is not" (South Bend Tribune 12-28-2010).
So Amazon has "quietly patented" a way whereby you can return your gifts before you even get them. This new option,  apparently planned in time for next Christmas, will allow you to designate individuals who consistently send you what you don't want or need—so that if they order another gift for you through Amazon it will be "vetted before anything ships." I.e., you'll have the option to "convert" the gift to one of your liking. The patent says: "The user may specify such a rule because the user believes that this potential sender has different tastes than the user" (Ibid).
You can imagine the uproar from the etiquette crowd! Anna Post, the great-great-granddaughter of the proper-manners queen, Emily Post, warns of a major backlash, and hopes Amazon abandons the notion: "This idea totally misses the spirit of gift giving. The point of gift giving is to allow someone else to go through that action of buying something for us. Otherwise, giving a gift just becomes another one of the world's transactions" (Ibid). Well put, Miss Post.
"Just another one of the world's transactions." Which, of course, can't be said for the Gift Heaven gave Earth long, long ago, can it? That Gift first borne on a barnyard trough . . . and eventually spiked to a Roman cross. Return the Gift to the Giver? And yet the small print of this intergalactic struggle still called "the great controversy" includes an opt-out proviso— a provision acted upon, sadly enough, time and again: "He came to His own, and His own did not receive Him" (John 1:11). I.e., they turned down the Gift.
On this New Year Sabbath we gather at the foot of the cross, at the feet of the Gift. Because it surely dawns upon our collective consciousness that in the words of F. F. Bruce, "the total adequacy of Christ" is our truest vision in the year before us, and our only hope in the life that is left." But God forbid [this New Year] that I should boast except in the cross of our Lord Jesus Christ, by whom the world has been crucified to me, and I to the world" (Galatians 6:14).  
Since mine eyes have gazed on Jesus
I've lost sight of all beside
So enchained my spirit's vision
Gazing on the Crucified.
—Oswald Chambers