December 3, 2010
"12 Daze of Christma$"—that's how the Boston Herald headlined the story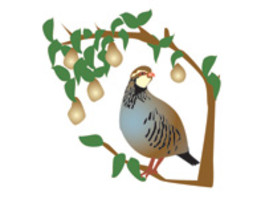 "12 Daze of Christma$"—that's how the Boston Herald headlined the story this week of PNC Wealth Management's annual analysis of the beloved Christmas song. You know the one: "On the first day of Christmas my true love gave to me a partridge in a pear tree." Two turtle doves, three French hens, four calling birds, five golden rings . . . all the way up to "twelve drummers drumming." Our friends at PNC (BTW, that's not PMC, our congregation) Wealth Management—who in managing your wealth this year, apparently had time to spare—calculated how much it would cost you to give your "true love" the 364 gifts in the song. "The total cost for all 364 gifts mentioned in the popular yule time tune skyrocketed 10.8 percent [thanks to climbing gold prices] to more than $96,000." That's $96,824, to be exact! (http://news.bostonherald.com/entertainment/lifestyle/...)
What shall we say about a culture that names the Friday after Thanksgiving—the Friday this year that found stores opening their doors to frenzied Christmas shoppers at 2 a.m., 3 a.m., 4 a.m., or stayed open all night—"Black Friday"? The day after we have theoretically thanked God for another year of divine benediction is black Friday? Early estimates for Black Friday purchases by Americans this year are $10.69 billion. (One hundred of those Black Fridays and we could pay off the nations's $1.3 trillion budget deficit!) And as if Black Friday weren't enough, Cyber Monday this week netted an estimated $1.023 billion of online Christmas sales, setting a new one-day record for cyberspace spending.
"And she brought forth her firstborn Son, and wrapped Him in swaddling cloths, and laid Him in a manger, because there was no room for them in the inn" (Luke 2:7).
Is it too late to celebrate a counter-cultural Christmas this year? To radically simplify our gift-giving? To inform our loved ones that this year a gift to charity in our names would be very special indeed (our church staff is trying that for the second time this year)? I'm not wanting to become the Grinch who stole Christmas—but I am asking myself if maybe the silver light of this season's Narrative is utterly anti-commercial, counter-materialism—and that maybe there are more meaningful ways to commemorate His birth.
What if you gave Christ as a gift this year? Amazon.com carries a new edition of an old classic for $2.99! A friend sent me this new edition earlier this year, and I read it through over the summer. Gone are the old King James quotations. Replaced now with NKJV and even NIV in places, this new paperback edition of The Desire of Ages is a keeper. Go online and check it out for yourself. For $2.99 you could buy a dozen of them for your dearest family and friends. I promise you that this fresh new NKJV edition makes this magnum opus of Ellen White's a heart-stirring read. It's my favorite book. In it you'll meet the counter-cultural Jesus as you never have before. What a Savior and Friend! Share him with your world. And let Christmas this year truly be about the Gift "my True Love gave to me."