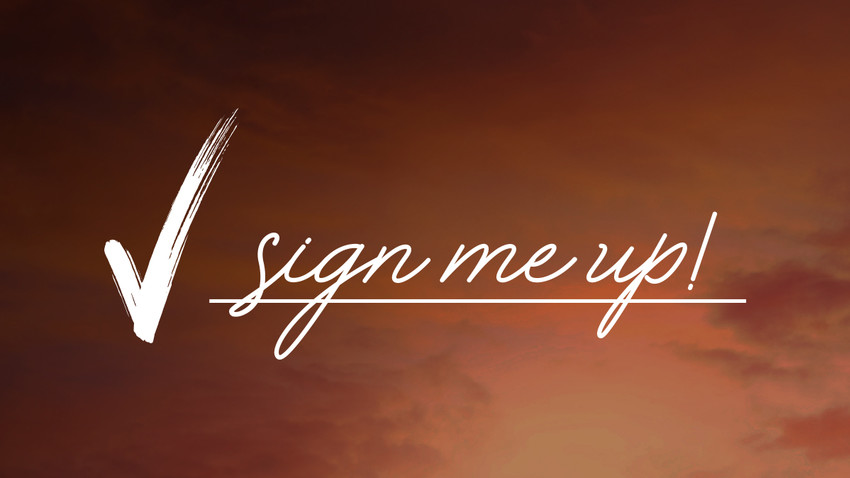 March 23, 2022
Sign Me Up! This Spring
Have you noticed? Life doesn't always happen this dreadfully slow (the waning pandemic) or this dangerously fast (the Russia-Ukraine war)—but life keeps happening. And so to celebrate the good-news, upside of life this springtime comes a new worship series—"Sign Me Up!"—a fresh invitation to find new life in volunteer service. 
The pandemic effectively pinned down the church and the nation, keeping many of us from social involvement and volunteer engagement. But now with a diminishing health threat, new opportunities for renewed service come cheerfully knocking at our door. 
"Sign Me Up!" explores a host of ways you and I can re-immerse ourselves (as disciples of Jesus) in our post-pandemic world of burgeoning needs and re-emerge from the shadows of the pandemic into the sunnier spring Sabbaths ahead. Welcome to you, welcome to new life, welcome to Pioneer!
March 26        "Good-bye Pandemic, Hello Refugees—Sign Me Up!" (Celebration of His Cross)
April 2             "Why Some of Your Friends Are Flourishing in a Languishing World—Sign Me Up!"
April 9             "Sleep in Heavenly Peace in the Inner City—Sign Me Up!" (Taurus Montgomery) 
April 16           "Albert Einstein's Secret to Happiness—Sign Me Up!" (Celebration of His Resurrection)
April 23           "Mr. Bingle's Old Coat—Sign Me Up!" 
April 30           "Do Justice—Sign Me Up!"