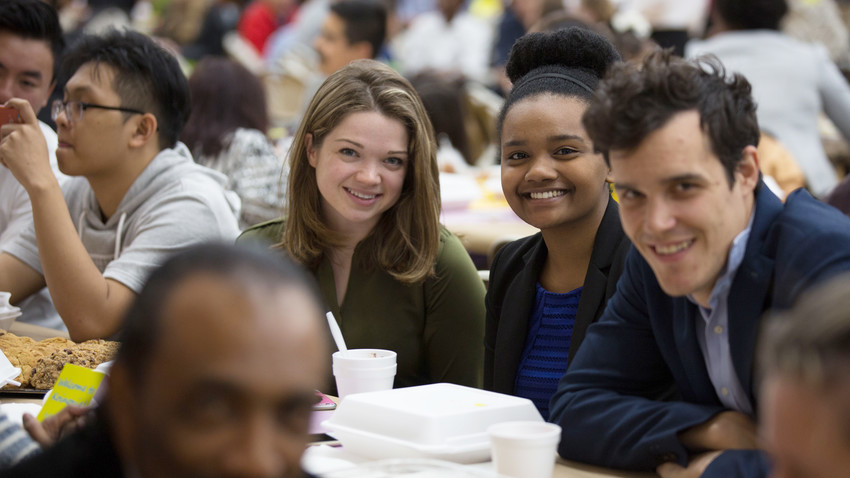 May 3, 2017
TY 4 The Gr8 Xchange & Koinonia Day Dinner
Last Sabbath will certainly go down as an historic day in the journey of the worship communities of this university. Not just because well over a thousand people were fed Haystacks (Heaven's favorite menu item?) and homemade desserts in Johnson Gym Sabbath afternoon. But also because of the spiritual quest that ignited the Great Exchange between New Life Fellowship and Pioneer Memorial Church Sabbath morning.
The quest for racial reconciliation has been on the hearts of the leaders of New Life Fellowship and the Pioneer Memorial Church this winter. As a symbol of that shared mission, the leaders of both worship communities considered a plan for the final Sabbath of the school year. What if the New Life Fellowship, meeting in the crowded seminary chapel, exchanged places with Pioneer's second service congregation (11:45 AM) on that last Sabbath, so that both worship communities could experience each other's worship space, each with their unique style of worship? The idea quickly expanded to include a campus-wide Sabbath dinner (with One Place joining them) following that exchange. Last Sabbath it all came together in a memorable morning and afternoon expression of koinonia, the Greek word describing the spiritual and social fellowship of the infant church after the Day of Pentecost: "They devoted themselves to the apostles' teaching and to fellowship [koinonia], to the breaking of bread and prayer" (Acts 2:42).
The written survey at the end of both worship services  (New Life Fellowship at Pioneer, and Pioneer at the seminary chapel) will provide the grist for "Where do we go from here?" discussions, as both leadership teams this coming fall explore how their two worship communities can move beyond last Sabbath's symbolism to a lasting expression of and commitment to racial reconciliation here on campus. It is anticipated that any formal action will commence January 1, 2018.
But April 29, 2017, remains a vital first step toward the deeper unity Jesus prayed for His followers (John 17). And this Koinonia Day could not have happened without the enthusiastic support and efforts of a host of leaders and volunteers. The administration of Andrews University, Plant Administration, and Dining Services all wholeheartedly supported both the Great Exchange and the Grand Dinner. Special kudos to Paul Elder who procured and then set up with his volunteers the blue canopy-covered walkway that stretched from the cafeteria to Johnson Gym, and to Rebecca May who organized a team of faculty and staff volunteers for both facility set up and crowd moving, and to the three university chaplains who oversaw the worship details of the Great Exchange, and to the 119 Pioneer families who provided homemade desserts enough to feed an army, and to the deacons/ushers/greeters of both Pioneer and New Life Fellowship who exchanged their usual comfort zone for a new environment to serve, and to the worship leaders and musicians of both worship communities, and to their pastors—to all of these dedicated leaders and volunteers we all owe a debt of gratitude!
(And to all those who came to me during the Grand Dinner at the gym and suggested that we consider providing such a sprawling dinner at least once a school year, or once a semester, or as one individual suggested, "once a quarter"— to all of you with such timely suggestions comes this immediate and irrevocable deputizing for "next time around" [if you read these words—you are herewith assigned to the planning committee]!)
But in the end, of course, "to God be the glory, great things He has done." The truth is much prayer preceded much planning. Moreover, we have only just begun. But we can be confident of Scripture's compelling promise: "He who began a good work in you will bring it to completion by the Day of Christ Jesus" (Philippians 1:6). God finishes what He starts. And the good news is—with Jesus—the best is yet to come.