There is no fellowship dinner this Sabbath, September 30, or on Sabbath, October 7.
Hiram Edson: The Man and the Myth
Dr. Brian Strayer, Emeritus Professor of History at Andrews University, will take a look at the life of the Adventist pioneer, Hiram Edson, who introduced the "Sanctuary Doctrine" to Adventists. The presentation will provide a synopsis of Dr. Strayer's new book by the same title as the talk. All are invited to attend this event on Sabbath, September 30, at 3:30 PM in Garber Auditorium, Chan Shun Hall, Campus.
Fall Grow Groups are beginning, and we need you! Join online at pmchurch.org/grow and enjoy meeting with others who share your interests. (There will not be a printed brochure this fall.)
Alumni Homecoming Weekend
Alumni Homecoming Weekend is happening this week!  Highlights of the weekend include the Golf Tournament (players still welcome!), the Classic Car Show (in a more convenient location at the HPAC parking lot this year), and the Homecoming Parade.   Andy's Eats, AU's fun new Food Truck, will be on site so you can enjoy a snack or a meal (no cash; card only).  After the International Flag Raising Ceremony Friday at 6:30 choose from a variety of Vespers programs.
Sabbath afternoon many departments and museums will be open. Then on Sunday come join the fun for the Bradley Family 5K/10K Harvest Run - a fun way to run or walk to support a healthy lifestyle. For more information and the full weekend schedule, visit alumni.andrews.edu/homecoming.
ASM Bulletin Announcement for September 30 and October 7
Come One, Come All--who are at least 55 years of age and desire to listen to an inspiring program and eat a delicious potluck on Sunday, October 8, at 1:00 PM at the Village Church Fellowship Hall. Dr. Brian Strayer will have a powerful presentation entitled "Romans were known for their Aqueducts." Come prepared to pay your dues, if you didn't already, and contribute to the donation jar so that we can have many more interesting programs in the future.
Pathfinder Fruit Fundraiser
The Evergreens Pathfinder Club will hold its annual fruit fundraiser where you'll have the opportunity to support our club by purchasing fresh fruits such as oranges, apples, pears, and other dried products. This year, the fundraiser will run from September 25th through November 10th. Stay tuned for details in the coming weeks! Thank you for supporting the PMC Evergreens!
Michigan Women's Ministries Upcoming Events
Michigan Women's Ministries is hosting two events in October. The first is our Mother/Daughter Weekend October 13-15 at Camp Au Sable in Grayling, Michigan. The guest speakers will be Nancy Hansen and her daughter, Adele. The second event is our One-Day Getaway on October 21. This year the Getaway will be held just up the road at The Mendel Center at Lake Michigan College in Benton Harbor! The guest speaker is Donna Willey. For more information about the events and speakers, as well as to register, visit michiganwm.com. We look forward to seeing you at one or both of these events!
Volunteers Mentor Help Needed
"Akram & Gladys Yaqub, a Husband Wife couple, have taken on the difficult role of Principal & Vice Principal, trying to turn things around at South Bend Junior Academy, 1910 Altgeld St, South Bend, IN 46614
They are looking for a volunteer Wood Worker for Fridays, 2-3 hours. Top notch Shop, all equipment like new, neat, and tidy. Just needs an able instructor!  They are also looking for a volunteer Auto Mechanic.
Recently purchased $6000 3D printer with a Laser Engraver in acquisition process.
"Please contact, Akram at 269-362-2357, If you wish to donate your time and expertise."
Thank you!
Pioneer Women's Ministries is hosting an "End of Time Life Kit" presentation by Pastor Celesta Babb. This timely presentation will be held on Sabbath (Saturday), October 7, 2023, at 4:00 PM,  in the PMC Commons. Check-in begins at 3:30 PM. We will start
promptly at 4:00 PM. What guidance does God give us about being mentally, emotionally and spiritually ready for the end of time?
During our afternoon sessions we will look at what it looks like to be ready for Jesus' second coming as well as how to process our emotions connected to living in the last days. Vegetarian, vegan, & gluten-free salad, soup, and bread will be served. Registration is important for planning the food. To register text the word "PREPARED" to 269-281-2345. Registration deadline: October 5, 2023. For more information contact yolande.robertson@pmchurch.org.
Wholistic Healing Conference at SDA Theological Seminary
The "Wholistic Healing: Challenges and Opportunities for the Church" conference addresses fundamental health and healing issues the church is facing today, like mental, emotional, social and family health, and much more. Therefore, while God is constantly working to heal people on the deepest level, His healing power calls the church to wholeness in our brokenness.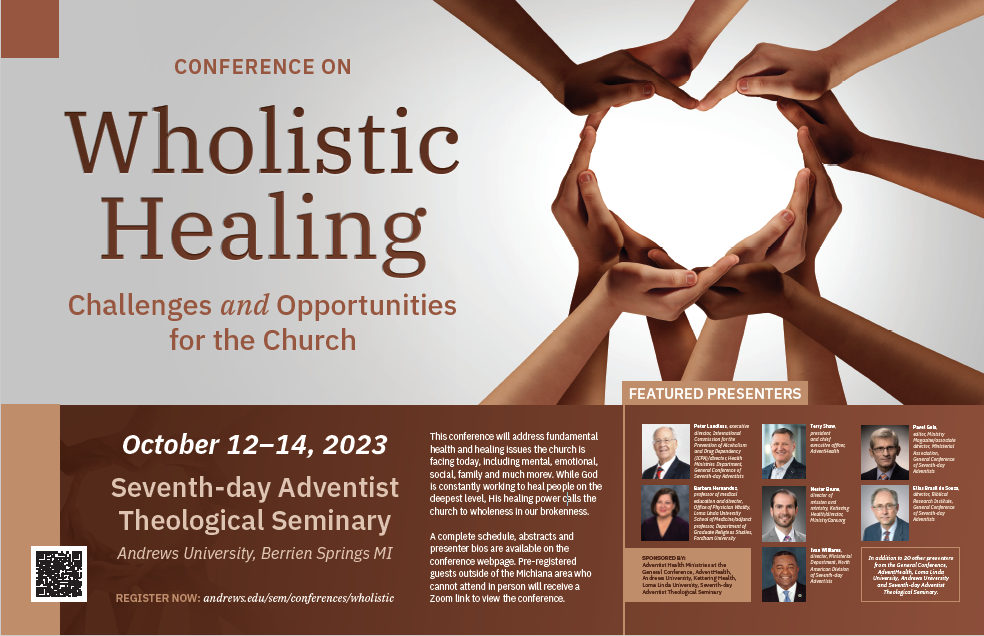 Howard Center Presents: Heritage Singers
Heritage Singers is a non-profit gospel music ministry based in California with a goal to bring people closer to Jesus through praising Him through music. When founders Max and Lucy Mace began this ministry, they never thought they would still be doing this 51 years later. The Heritage Singers have had the opportunity to travel to over 80 different countries, travel over two million miles, and perform over 7,000 concerts. Max Mace believed that, "If there ever was a time to share the Good News about Jesus, it's now."
Tickets are available online at howard.andrews.edu or call our box office at 269-471-3560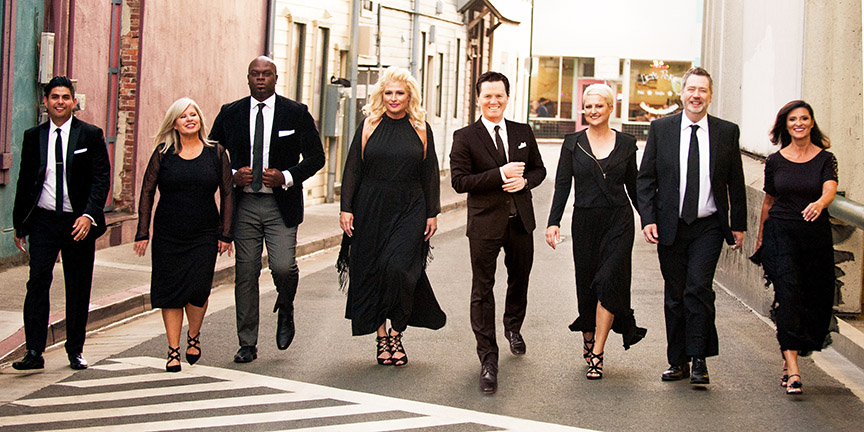 Sponsor RMES students for the Bike-a-thon
The RMES Home & School Team is hosting a bike-a-thon / walk-a-thon fundraiser for Ruth Murdoch Elementary School on Sunday, October 22, 2023. 90% of the proceeds will go towards improvements for the kindergarten sand play area, a gaga ball pit, and the carpet upgrade project and 10% will be used for future Home & School events. Last year students raised over $8,700 and we hope this year even more funds will be raised. Some students at RMES may not know many people in our community and will be looking for sponsors. If you would be willing to sponsor one or more students, please text "BIKE" to 269-281-2345 or signup here by Friday, October 13. No amount is too small.
 
Horn Archaeological Museum Volunteer Positions
The Siegfried H. Horn Archaeological Museum is looking for volunteers to help open the museum to the community from 3-5 PM on Sabbath afternoons. If you are interested in Biblical history and how archaeology supports the Scripture, and you would like to share that with others, join our museum docent team. Please call the Assistant Curator at 269-471-6180 or email horncurator@andrews.edu for more information and ask for an application form.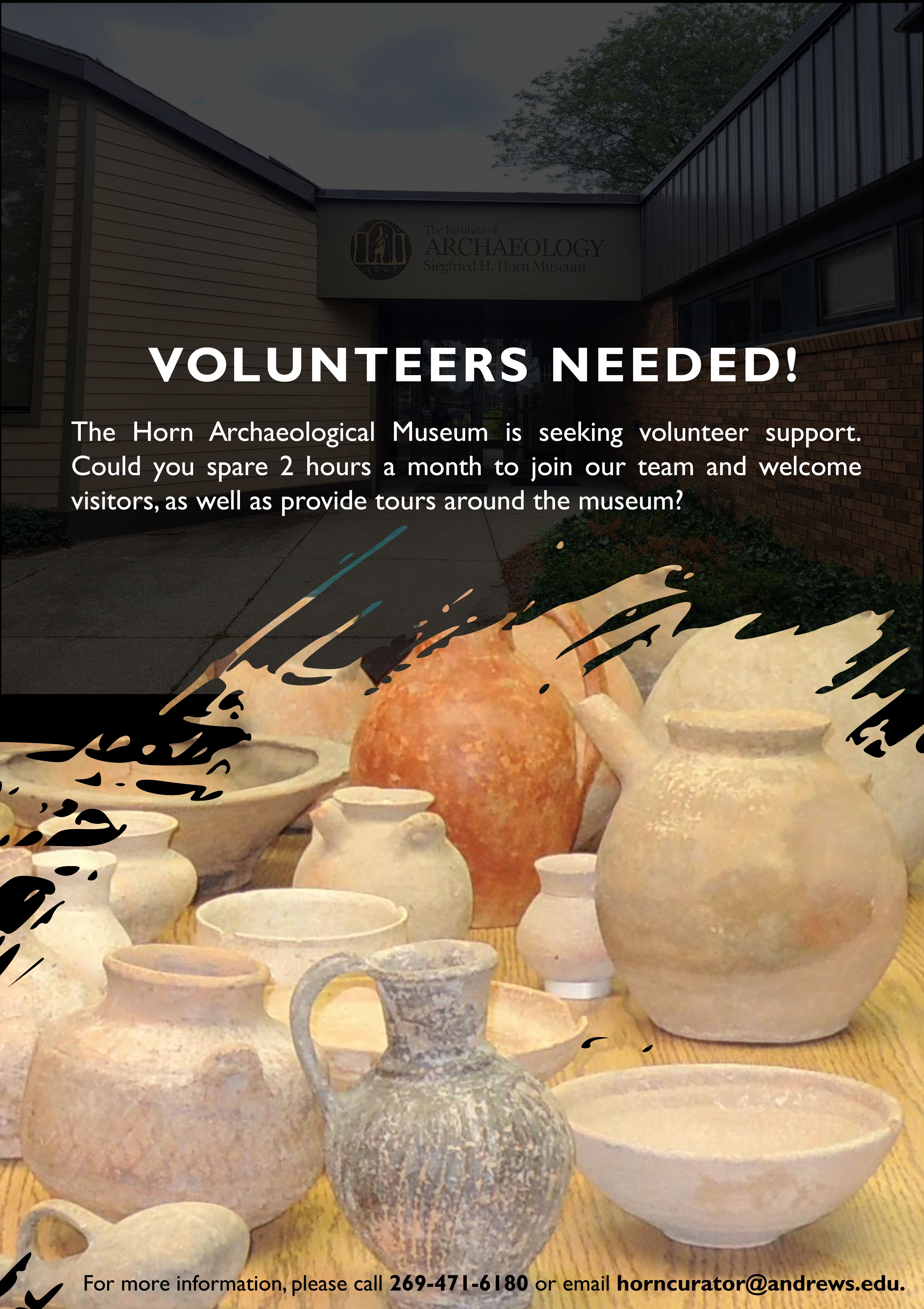 God's Hands 4 Kids is a "Love on the Move" ministry. We are an outgrowth of a Grow Group that first met 10 years ago. We have a close relationship with Berrien County DHHS and other agencies. Our Facebook group has a following of over 2,200. You are invited to serve with us. Maybe childcare or food prep or serving or set up for monthly support group, deliveries, clothes sorting or more. Check out our Facebook group and our website, GH4K.org or email Godshands4kids@gmail.com for more info.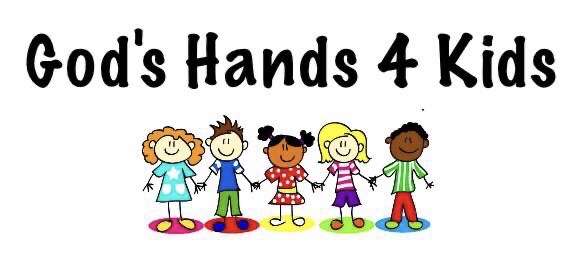 Wednesday Evening House of Prayer Location Change
Please join us for House of Prayer each Wednesday evening at 7 PM as we now meet in the main sanctuary. If you need a spiritual shot in the arm during the middle of the week you'll find it here as we sing, pray, and reflect on God's promises together. God meets us here each week as we grow closer to Him and each other. Our numbers are growing and we hope to see you there.
Something In Common Sabbath School
Something In Common Sabbath School presents Familylife's Art of Parenting
Art of Parenting-aiming your child's heart toward God.
August 26–The Goal of Parenting
September 2–Forming Character
September 9–Applying Discipline
September 16–Building Relationships
September 23–Understanding Identity
September 30–Nurturing Identity
October 7–Preparing for Mission
October 14–The Power of Family
Everyone is welcome in PMC Room 141.
Looking for fun, safe and afordable experiences for your school age child this fall? The Crayon Box's engaging environment offers kids a place to play, learn and socialize through indoor and outdoor activities, games and more!
Open to K-7th graders.
Monday - Thursday 3:30 pm - 6:00 pm
Friday 12:30-4:30 (lunch included)
Our After School program includes:
Healthy Snack
Homework Help
Legos and Games
Outdoor Fun
Art and Design
Reading
STEM/STEAM
Art/Craft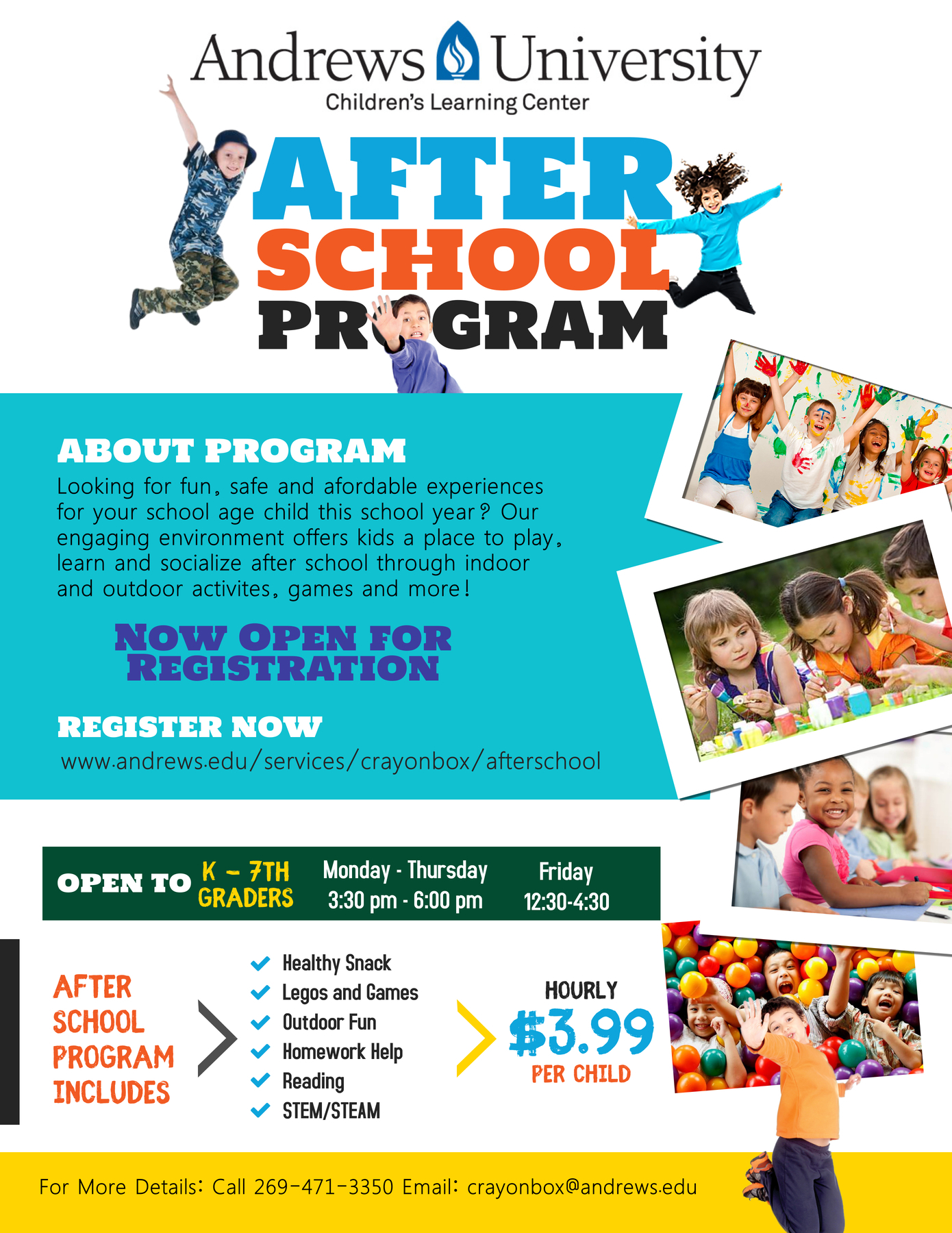 Each Sabbath morning at both 1st and 2nd services, people gather in "The Prayer Room" to pray for the church service, the participants, the congregants (both in-house and online), and for the prayer requests submitted each week on the Connect Cards (anonymously; requestor names are not included). We participate in the congregational prayer and listen to the sermon on a monitor provided in The Prayer Room. We are in need of more volunteers for both services. You can set your own schedule - once a month, one month a quarter, two months a year, whatever works best for you! If you have a heart to pray for others or are simply looking for more information, please contact Deb Montcalm at greengables75@yahoo.com.
Wednesday Morning Prayer Meeting
Join our Wednesday gathering on Zoom as we share and pray together.