Donated: $570,566
Goal: $1,000,000
Introduction
There is one group of Pioneer members who have done so much to make our recent renovation project (Renovate: Heart & House) possible - and yet who themselves are still lacking the very renovation they need most. Our senior members are the faithful core who have always cheerfully provided for Pioneer's multifaceted needs through both volunteer time and financial backing. What can we do for them?
 
Hands down the most significant gift of gratitude we could give them is the one they desperately need most: a new spacious elevator on the southwest (awning) entrance to our church. The small, difficult-to-operate freight elevator there now has long ago outlived its usefulness. Instead, we need a spacious, easy-to-operate elevator to transport the physically impaired and senior members of our congregation to all three floors (and for sad occasions accommodate a full-sized casket as well). It will be wheelchair friendly and readily accessible from our parking lot.
Our building committee and church board have voted to install the much-needed elevator and redesign the stairs to reduce their steep climb which in turn can provide more comfortable access to our church for all God's people.
Timeline and Budget
One of our members has stepped forward to pledge a $100,000 matching donation for every dollar we give up to $100,000, thus ensuring $200,000 to launch our project. Because the new elevator shaft will necessarily be larger than our present shaft, there will be adjustments to both the Youth Chapel on the main floor and the choir room on the bottom floor. To accommodate lost closet space in the Youth Chapel, the architects have designed new and expanded storage space at the back of the chapel. That, in turn will extend the floor of our cramped media space above the chapel and provide much needed storage and work space for them as well.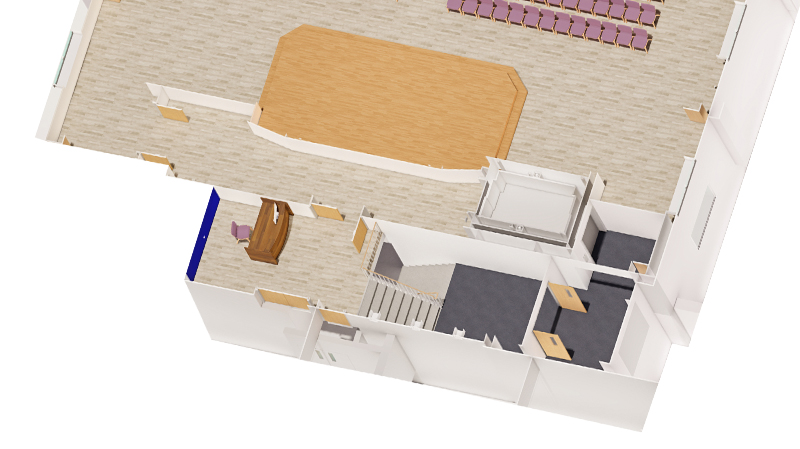 The construction manager, Weigand Construction, has a projected cost of $929,641 for the elevator and construction revisions; this figure is a final amount and includes a 3% contingency. Never-the-less, having learned from recent completed renovation project, the church board, wisely, is recommending a million-dollar fundraising goal to ensure completion of this most-needed access. Weigand Construction will begin the demolition phase on Tuesday, December 27, 2022, and it should be completed in six months — which means this vital addition to Pioneer can become reality in half a year!
The bank of heaven has not failed Pioneer - we have not overdrawn God's resources. We can do it, because He can do it through us. If each of us once again joins the Family in cheerfully, sacrificially giving — this time toward Renovate 2.0 — we can finish both the building and the fundraising for this project on schedule.
Financial Documents
Project Updates
December 21, 2022
The Project:
Construction begins on Tuesday, December 27.
All church entrances will remain open for Sabbath services; however, the only entrance to the Youth Chapel will be the outside entrance closest to the Wellness Center.
The small elevator at the awning entrance will not be in use starting December 27.
Fundraising:
As of this week, you have generously contributed $309,738 including the second portion of a $100,000 matching grant. Thank-you!
---
November 30, 2022 
The Project:
The final guaranteed cost, as submitted by the general contractor, Weigand Construction, is $929,641.
This amount includes a 3% contingency. The project begins on Tuesday, December 27, and is to keep on-budget.
The elevator is on order and should be here mid-May 2023.
Fundraising:
As of this week $225,627 that have been raised. This amount includes one portion of a $100,000 matching grant.