Peace on Earth All Over Again
Redux Part 3
Resources
DVDs
To purchase a DVD of this sermon please visit our online shopping cart. Proceeds go to support the New Perceptions media ministry.
Buy DVD Online
Buy series
Speaker
Dwight K. Nelson
Since 1983, Dwight Nelson has served as lead pastor of the Pioneer Memorial Church on the campus of Andrews University. He preaches on the "New Perceptions" telecast, teaches at the theological seminary and has written some books, including The Chosen. He and his wife, Karen, are blessed with two married children and 2 granddaughters.
Offering
Saturday, December 25, 2021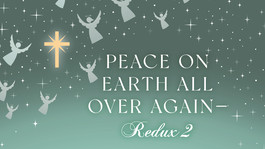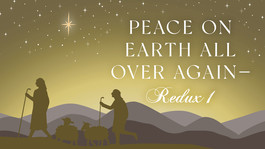 OPENING MUSIC
"The Holy Boy (A Carol of Nativity)" • John Ireland
Organ: Kenneth Logan, Minister of Music
CHRISTMAS WELCOME
CHRISTMAS CALL
PASTOR: "Break forth, O beauteous heavenly light, to herald our salvation;"
PEOPLE: "He stoops to earth—the God of might, our hope and expectation."
PASTOR: "He comes in human flesh to dwell, our God with us, Immanuel,"
PEOPLE: "The light of darkness breaking, our fallen race befriending."
PASTOR: "O come, let us adore Him, Christ the Lord."
PEOPLE: Amen.
CHRISTMAS CAROLS:"BORN TO SAVE"
"Good Christians, Now Rejoice" • "Now Is Born the Divine Christ Child" • "O Little Town of Bethlehem" • "Angels from the Realms of Glory"
Leanne Miller, soprano; Byron Graves, clarinet, Kenneth Logan, organ
CHRISTMAS FAMILY PRAYER
Rhonda, Aron, and Stella Tomenko
Sonia Badenas and Marco Sciarabba*
CHRISTMAS BAPTISM*
Do Hyun (Paul) Cho with Hong Pal Ha
CHRISTMAS CAROL
"Away in a Manger"
CHILDREN'S CHRISTMAS STORY
Dwight K. Nelson, Lead Pastor
CHRISTMAS READING
Pavel and Sam Tomenko • Davide Sciarabba*
Luke 2:1-7 NKJV
"And it came to pass in those days that a decree went out from Caesar Augustus that all the world should be registered. This census first took place while Quirinius was governing Syria. So all went to be registered, everyone to his own city. Joseph also went up from Galilee, out of the city of Nazareth, into Judea, to the city of David, which is called Bethlehem, because he was of the house and lineage of David, to be registered with Mary, his betrothed wife, who was with child. So it was, that while they were there, the days were completed for her to be delivered. And she brought forth her firstborn Son, and wrapped Him in swaddling cloths, and laid Him in a manger, because there was no room for them in the inn."
CHRISTMAS MUSIC
"What Child Is This?" • Kenneth Logan
Betania Cañas, flute; Kenneth Logan, organ
CHRISTMAS HOMILY
"Peace on Earth All Over Again—Redux 3"
Dwight K. Nelson, Lead Pastor
CHRISTMAS COMMITMENT
"Of the Father's Love Begotten" • anon. melody
Elizabeth Wilson, mezzo-soprano
CHRISTMAS BLESSING
CLOSING MUSIC
"IN DULCI JUBILO" ("In Sweet Jubilation")Johann Sebastian Bach
Organ: Kenneth Logan, Minister of Music
*Indicates 11:45 AM Service