Peace on Earth All Over Again
Redux Part 1
Resources
DVDs
To purchase a DVD of this sermon please visit our online shopping cart. Proceeds go to support the New Perceptions media ministry.
Buy DVD Online
Buy series
Speaker
Dwight K. Nelson
Since 1983, Dwight Nelson has served as lead pastor of the Pioneer Memorial Church on the campus of Andrews University. He preaches on the "New Perceptions" telecast, teaches at the theological seminary and has written some books, including The Chosen. He and his wife, Karen, are blessed with two married children and 2 granddaughters.
Offering
Saturday, December 04, 2021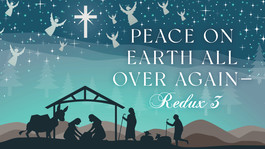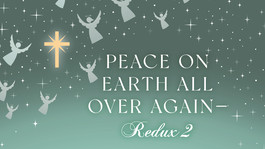 OPENING MUSIC
"Away in a Manger" • T. Wallace
"Festive Fanfare" ("Joy to the World")James Curnow
Andrews University Wind Symphony, Byron Graves, director
CALL TO WORSHIP
Prescott Khair, Associate Pastor
PASTOR: Look! Christ comes to us.
PEOPLE: Our eyes will see him. Our ears will hear his voice.
PASTOR: See! Christ is the faithful witness.
PEOPLE: He directs us to God, who is the source of our lives and the provider of our hopes.
"CAROLS OF THE SEASON": A HYMN CYCLE
"Hark! The Herald Angels Sing" • "O Come, All Ye Faithful" • "Silent Night" • "Joy to the World"
PRAYER
Christopher Langston, Andrews University Student
WORSHIP IN MUSIC
"O, Holy Night", Adolphe Adam / Calvin Custer
Andrews University Wind Symphony, Byron Graves, director
CHILDREN STORY & PRAYER
Children's Story: Melissa Poua; Prayer: Yeshua
HYMN OF PREPARATION
"O Come, O Come, Immanuel"
MESSAGE
"Peace on Earth All Over Again—Redux 1"
Dwight K. Nelson, Lead Pastor
CONNECT CARD

PRAYER
Prescott Khair, Associate Pastor
CLOSING MUSIC
"O Come, O Come, Immanuel" • anon. melody
Kenneth Logan, organ, Minister of Music