Yes Can Do
How to Pray with an Attitude
DVDs
To purchase a DVD of this sermon please visit our online shopping cart. Proceeds go to support the New Perceptions media ministry.
Buy DVD Online
Buy series
Speaker
Dwight K. Nelson
Since 1983, Dwight Nelson has served as lead pastor of the Pioneer Memorial Church on the campus of Andrews University. He preaches on the "New Perceptions" telecast, teaches at the theological seminary and has written some books, including The Chosen. He and his wife, Karen, are blessed with two married children and 2 granddaughters.
Offering
Program:
Prayer of Confession for Strongholds
2 Corinthians 10:3-5 NIV • Whom Shall I Fear
Arrival of the Queen of Sheba (Oratorio "Solomon") • George Frideric Handel/H.Fisher
Andrea Gibbs, Gilbert Wari, & Bruna Barbosa
YES CAN DO: How to Pray with an Attitude
Isaiah 6:8-9 NIV • Facing a Task Unfinished • melody of 348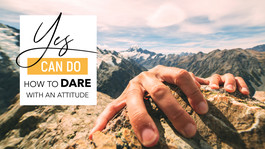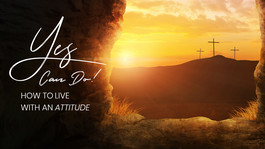 "YES CAN DO: How to Pray with an Attitude"
www.newperceptions.tv
Act One—Joshua 10:1-5
Ephesians 6:10-12
Ellen White: "Could our eyes be opened, and could each see the conflict of angelic agencies with the Satanic confederacy, who are combined with evil human agencies, what astonishment would come upon the soul. The holy angels are working with terrible intensity for the salvation of men, because the destroyer of souls is seeking to make of no effect the salvation which has been purchased at infinite cost. Could our spiritual vision be opened, we should see that which would never be effaced from the memory as long as life should last. We should see souls bowed down under oppression, loaded with grief and pressed down as a cart beneath the sheaves, and ready to die in discouragement. We should see angels flying swiftly to aid the tempted ones who stand as on the brink of a precipice. These tempted souls are unable to help themselves, and avoid the ruin which threatens them; but the angels of God are forcing back the evil angels, and guiding the souls away from the dangerous places, to plant their feet on a sure foundation. We should see battles going on between the two armies, as real as those fought by opposing forces on earth." (Signs of the Times October 29, 1894)
Act Two—Joshua 10:6-8
Anne Lamott: "There's freedom in hitting bottom, in seeing that you won't be able to save or rescue your daughter, her spouse, his parents, or your career, relief in admitting you've reached the place of great unknowing. This is where restoration can begin, because when you're still in the state of trying to fix the unfixable, everything bad is engaged: the chatter of your mind, the tension of your physiology, all the trunks and wheel-ons you carry from the past. It's exhausting, crazy-making. Help. Help us walk through this. Help us come through. It is the first great prayer." (Help Thanks Wow: The Three Essential Prayers 14-15)
Ellen White: "[We] are to contend with supernatural forces, but [we] are assured of supernatural help. All the intelligences of heaven are in this army. And more than angels are in the ranks. The Holy Spirit, the representative of the Captain of the Lord's host, comes down to direct the battle. Our infirmities may be many, our sins and mistakes grievous; but the grace of God is for all who seek it with contrition. The power of Omnipotence is enlisted in behalf of those who trust in God." (Desire of Ages 352)
2 Corinthians 10:4
Sidlow Baxter: "Men may spurn our appeals, reject our message, oppose our arguments, despise our own persons—but they are helpless against our prayers."
Ellen White: "Satan knows better than God's people the power that they can have over him when their strength is in Christ. When they humbly entreat the mighty Conqueror for help, the weakest believer in the truth, relying firmly upon Christ, can successfully repulse Satan and all his host." (Testimonies to the Church 1:341)
John 15:5—"For without Me you can do nothing."
Revelation 12:11—"They triumphed over him [the Satan Dragon] by the blood of the Lamb and by the word of their testimony; they did not love their lives so much as to shrink from death."
Ellen White: "Tell him [Satan] of the blood of Jesus, that cleanses from all sin. You cannot save yourself from the tempter's power, but he trembles and flees when the merits of that precious blood are urged." (Testimonies to the Church 5:317)
Act Three—Joshua 10:9-14
John Dawson: "The prayer of a human being can alter history by releasing legions of angels into the earth. If we really grasped this truth, we would pray with intensity, and we would pray constantly." (Taking Our Cities for God 140)
YES CAN DO because  HE CAN DO
Please mark Sabbath, October 3 (9:00/11:45 AM), for a joyful celebration of the Lord's Supper as a worshiping community. While we will participate with actual emblems of bread and wine, because of the pandemic the elements will be prepackaged for your safety. These packaged elements will be available for your pickup at the church office the week before (Monday, September 28 through Sabbath, October 3). On-site worshipers will receive the packaged communion elements upon arriving for worship Sabbath morning.
But how will we celebrate foot washing? We're inviting every worshiper and family to experience Jesus' example in John 13 by washing each other's feet that Friday evening where you live. If you would like someone with whom to share this foot washing, you may either invite a friend to join you or please call Claudia Sowler (269-471-3134) for arrangements. Why not make this foot washing a part of your Friday evening worship as we gather across this community to welcome the Lord of the Sabbath into our homes at sundown?
Then Sabbath morning through music, prayer, the reading, and preaching of the Word ("American Apocalypse: How to Train Your Dragon—By the Blood of the Lamb") let's throw wide our hearts to the Christ we love to worship. "Do this in remembrance of Me" (Luke 22:19).
4th Quarter Lesson Study Guides
The 4th Quarter Lesson Study Guides are ready for you to pick up at the church office during regular business hours.
Sabbath School Class to Study "Experiencing God"
Pioneer's Bible Journey Sabbath School class will be using the Experiencing God: Knowing and Doing the Will of God (Study Guide) next quarter, beginning October 3. If you have always wanted to read this book, which has changed so many lives, you are welcome to
join us by Zoom. The class meets each Sabbath from 10:30 to 11:30 a.m. The 270-page study guide, which is conveniently divided into 12 weekly lessons, can be purchased at Amazon.com for $15.99. For more information and to receive the Zoom link each week, please contact Jane Thayer at thayerja@andrews.edu.
Make a Difference as an Online Chat Host
Are you friendly and do you enjoy social media? Then, we have a great opportunity for you to be involved in ministry. Through streaming its services on Facebook Live and our website, Pioneer Memorial Church reaches thousands of people every single week. We're looking to build a new team of local moderators/hosts for our online chat experiences. You could do this from your home. For more information contact Rodlie Ortiz at rodlie.ortiz@pmchurch.org.
Thank you to all those who helped in any way to promote and support our July 23 Red Cross Blood Drive. That includes the Pioneer pastors and staff and especially the Pioneer Safety Committee who helped us establish COVID-related safety protocols and procedures with the Red Cross for the drive. Thank you to those who recruited someone to give, promoted the drive, helped set up, take down, register participants and
provide refreshments after donations. And, a SUPER SPECIAL THANK YOU to those that Gave The Gift Of Life by donating precious blood. We had one of our most successful summer blood drives ever despite the COVID virus (or, maybe because of the COVID virus). Less people away at camp meetings and traveling and vacationing? Just a hunch. Our next blood drive is scheduled for October 20, 2020 and again on February 24, 2021. Be well and God Bless! -Larry Ulery
Over the summer and fall of 2019 Pioneer underwent significant physical renovation—including a new roof and a major Sanctuary makeover. During the same time congregation leaders engaged in multiple conversations about our missional renovation—how does a faith community like Pioneer seriously engage and impact the people around us for Christ? From this dialogue emerged a fresh new expression of our Pioneer mission: "Love on the Move."