COVID-19 Update: During this time of social distancing, we are offering weekly ideas of ways to spend quality time in nature, as well as indoors.
These activities will hopefully strengthen the family bond while remedying the cabin fever we're all feeling.
Welcome to the Family Life page! We strive to offer multiple events and activities for our church family throughout the year, including the annual hayride, swim and gym, game nights, and more. We also present seminars and talks on topics such as child guidance and grandparenting.
Activities for Kids During a Pandemic
What sorts of challenges have you experienced during the last few months while staying at home? Some who live alone may find isolation to be more discouraging than those who are living with roommates or family members. Extroverts no doubt feel the lack of social interaction more acutely than introverts. Couples may find that extra time together is more difficult than they anticipated. In an April 28 Adventist Review article, Willie and Elaine Oliver (Adventist world church Family Ministry directors) stated that "Keeping your marriage healthy during the COVID-19 quarantine needs to be a high priority for all couples." All of us have had to deal with a completely new situation.
One group I've thought about in particular is the children. How has the lockdown affected them? How are they dealing with time away from school, from friends, from their usual summer activities, and from Sabbath School? Our eight-year-old granddaughter summed it up quite accurately when she recently declared, "Everything is canceled!" For those of us who are adults, the last four months represent a small percentage of our lives, but for young children, four months can seem to be a very long time. As adults in our community, it is worthwhile to think of ways we can help our children, grandchildren, nieces and nephews, friends, neighbors, and acquaintances.
Children form their views based on what they see the adults around them doing and saying. In the situation we face today, the stress that adults feel is likely to trickle down to the younger members of the family. Some parents have been struggling to maintain their own careers from home. Others have jobs where they still need to leave the house to go to work every day. At the same time, children have been at home, finishing the school year through online time with their teachers, and wishing they could see their friends. Anything we can do to help ease the strain on these families, both adults, and children, will be a big help to all, particularly if we can help the kids have fun. In the words of Randy Pausch, the Carnegie Mellon University professor who became famous for his "last lecture" before passing away at the age of 47 from pancreatic cancer, "Never, ever underestimate the importance of having fun." 
Just last week we took our two grandchildren up north to an area with a very low coronavirus rate and enjoyed four days of outdoor activities with them. We swam, we climbed sand dunes, we bicycled, and we even took several trips each down an alpine slide. Even though many of the usual summer activities are canceled, with a little planning there are other ways to have some fun and make new memories.
Do you know a family who could use some help? Fears and uncertainties may remain for some time, but taking the children on an outing could help reduce the stress of the whole family. Summertime provides the opportunity to be outside where the risks to our health are lower. Locations nearby include the Pumpkinvine Trail in northern Indiana which is great for biking or walking and has several parks and restrooms along the way. North of here the Kal-Haven trail, a former railroad bed, runs between South Haven and Kalamazoo and is another enjoyable biking venue. Love Creek, Fernwood, and Sarrett Nature Centers are all open for outdoor activities. There are public pickleball courts where you can enjoy an outdoor game that easily includes both adults and children. Even an afternoon of tossing a frisbee or playing catch or going to a playground is a break from the normal routine and is a chance for children to have a little fun.
If there is anything you can do to help families with children who you know, see if you can find a way to do it.
Life Lessons from Lumpy and Roo
It would not be a stretch to say that one of our favorite family movies is Pooh's Heffalump Movie, a sweet story focusing on the young kangaroo named Roo. Roo has learned all about the dreadfully dreadful, horribly hazardous heffalumps from his friends' Rabbit and Tigger when they discover evidence that a heffalump has been in the Hundred Acre Wood. All the friends decide they need to capture the heffalump but leave Roo behind because he's too young to go on such an expedition. Unwilling to be left out, Roo goes on his own expedition to capture a heffalump. In the process, he meets a young heffalump named Lumpy, and the two quickly become friends, playing and singing together. As they spend more time together, Roo realizes that he doesn't want to capture a heffalump anymore. Lumpy may look different, but he is really very much like Roo and his friends – he gets afraid, he likes to bounce, he likes honey. Roo decides to take Lumpy to the Hundred Acre Wood, but Lumpy resists because he's heard that the animals there are scary. Roo is surprised to hear these words come out of Lumpy's mouth. His friends? Scary? How silly! But it's a very real emotion based on the presumption (which turns out to be a little too true).
Children are not born fearful and hateful, but rather these traits are taught and learned. And they are learned from various sources, sometimes intentionally but often subconsciously. Proverbs 22:6 states, "Train up a child in the way he should go, and when he is old he will not depart from it." What are we teaching our children, even subconsciously? Are we guarding the avenues of their hearts and minds from outside detrimental sources? Do we ourselves represent what we want our children to be? What a privilege and responsibility we have to train up our children for the Lord so that they may reflect His character. May God be our ever-present help in this commission!
An Absorbent Object Lesson
Sometimes it's worth it to take a look around you – and teach children to look around – and think about the things you see in different ways. Even the most mundane things can hold a spiritual truth if you take the time to think about it. Have you ever stopped to consider coasters? Probably not, huh? Let's spend a moment pondering coasters as object lessons. You have likely seen the result of a wet glass left on something made of wood – the unsightly white ring. A coaster placed between the wet glass and the table serves to protect the wood from damage. So imagine that you are the table – a nice, wooden table, with a nice, polished surface. Your surface is so polished that you can even see the reflection on it of the One who made you. Now imagine that Satan is a glass filled with a cold beverage, and he sets himself down right on your polished surface. As he sits there, his glass starts to sweat, and condensation rolls down the glass and collects around the base of the glass. The ill-effects of Satan's influence have seeped into you. When the glass is finally removed, you see the results of his time spent on you – a stain on your wood, a white ring where you can no longer see the reflection of your Maker. His image on you has been marred. You realize that you can't protect yourself from the damage that the enemy can inflict on you, and you pray for the protection that can only come from God. As Satan approaches again, you notice that something comes between you and the enemy. A coaster is placed on your surface, and as the condensation rolls down toward you once again, the coaster absorbs the evil that was meant for you and protects you from being marred again. Our coaster is Jesus, who places Himself between us and our enemy, protecting us from Satan's attacks, and taking the consequences of evil on Himself.
The Bible tells us that "the Lord is faithful. He will establish you and guard you against the evil one" (1 Thess 3:3). Aren't you so thankful for our faithful Protector? If you have an absorbent coaster, show it to a child and share how Jesus is our coaster!
Life Lessons From a Go-kart
When I was about eight years old, my family "inherited" a go-kart from my uncle. He was a few years older than my older brothers and had outgrown this child's ride. It had been handmade by my uncle out of wood with a long, skinny front end and a wooden seat. It was painted dark blue and had four wheels that had been taken off of an old lawnmower. This particular go-kart moved thanks to muscle and ingenuity, not because of a motor and steering wheel. Inside, there was a rope that attached to the front wheels for steering – pull on the left side of the rope and turn left, pull on the right side of the rope and turn right – and someone had to push it from behind. The younger of my older brothers and I loved to play with the go-kart. I would climb into the seat and grab the steering rope, and my brother would push me all around our block. Once back at our house, we would switch. He'd climb in and grab the rope, and I'd get behind and push him around the block (at least as best as I could considering he was so much bigger than I was!). After we each had a few turns, we safely stored the go-kart in our garage.
Sometimes I liked to get the go-kart out of the garage and play with it by myself. As I pushed it out, I had trouble getting it where I wanted it to go, because no one was inside pulling on the rope and steering the wheels. Once I got it in position, I climbed in, and I could only pretend to be zooming around the block because there was no one behind me to push. While this was mildly amusing, it really wasn't satisfying, and it didn't serve the purpose for which the go-kart was made. It really needed two people to make it work as intended. Ecclesiastes 4:9 says, "Two are better than one, because they have a good reward for their labor." Our go-kart didn't work properly without both my brother and me doing our parts, whether that was steering or pushing. Plus it was far more fun to be sharing the experience with him! Likewise, in life, when we work together for a common purpose and appreciate what each of us brings to the table, we will get so much farther and have so much more success than we will if we don't team up with others. And we might even have some fun in the process! Let's look for ways to work together to build up the Kingdom, to help each other out, and make this world a better place for all of us.
Camping & Blanket Forts
Spend some quality time outside this week. In your yard, set up a tent, create a tepee out of long branches and blankets, or make a lean-to with branches and a tarp/blanket/sheet. Set out a blanket and have a picnic with your favorite foods. Or build a campfire and roast s'mores, hot dogs, or veggies in foil packets. Tell a story with your family by having each person add a sentence to a prompter phrase, such as, "Once upon a time, there was a…." If the weather isn't cooperating, build a blanket fort inside, have an indoor picnic, read a book out loud, or do the shared story. Your story could even be about meeting Jesus back in Bible times or in Heaven, or what you would do on the New Earth!
Rain
Here are a few things you can do when it's raining outside:
Create Rain Art: Color on heavy cardstock with washable markers, then set out your pictures in the rain and watch the colors swirl and blend. If it doesn't happen to be raining, you can also use a spray bottle or small watering can make the same effect.
Make Rain Music: Set out bowls/pots/pans/buckets/bottles, tin foil, even a toy xylophone and listen to the music created by the raindrops.
Play "Pooh Sticks": During or after the rain, stand on the upstream side of a bridge and drop sticks into the stream below. Move to the other side of the bridge to see which stick appears first.
Remember to look for the rainbow after the rain!
Birds & Prayer Box
Spring is a great time to notice the beautiful birds in our area. Spend some time outside both watching for and listening to the birds. Try to identify as many birds as possible both by sight and by sound. There are a number of apps you can use to help with identification. If you're feeling especially creative, sketch some of the birds you see while you ponder why God would create so many different varieties of birds.
While you're inside, why not create a beautiful prayer box? It seems there are more and more people and things to pray for nowadays – it's hard to remember them all. Find a container you'd like to use and paint it, decorate it, make it somehow special. Cut paper into smaller sheets for each prayer request (even the papers can be decorated). Each day, pray over the items in the box.
Leaves
Now that leaves are starting to emerge, take some time to look at all the different varieties. See how many different ones you can find. Compare and contrast them. Are they smooth? Are they wrinkly? Are they fuzzy? Are they sparkly? If possible, take pictures of all the leaves and look at them on a computer to see them more closely. Or take a magnifying glass out with you.
Since it seems we are going to be spending more time locked down than we originally thought, why not create a time capsule to document what you're doing during this time. You could write a book about your experiences. You could keep a photo journal of all you are doing. Each family member could put a handful of items that are meaningful to them and this time in a container and open it a few years from now. And don't forget to look for the God moments in all of this, too!
Rock Painting
When you get outside this week, take some time to do a fun game – either by yourself or with your family. Choose a letter of the alphabet and find as many things that start with that letter as you can. Keep choosing different letters to keep the fun going! You can easily play this game inside as well.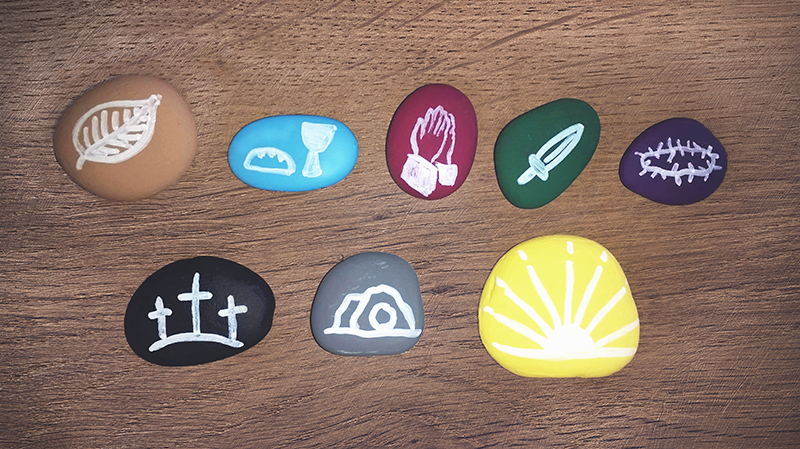 While you're out and about you can also collect eight medium-sized, smooth stones. These stones can be painted to become story stones about the events leading up to Jesus' death and resurrection. Have children help you choose stones and paint each one a different color. Adults or older children can draw with a paint pen or sharpie the symbols of the various events of the week: palm leaf, bread and cup, praying hands, sword, a crown of thorns, three crosses, tomb, and sunburst. Then on Sunday, share the story using the stones.