Tales from a Vineyard
Cry Baby, Cry
Speaker
Dwight K. Nelson
Since 1983, Dwight Nelson has served as lead pastor of the Pioneer Memorial Church on the campus of Andrews University. He preaches on the "New Perceptions" telecast, teaches at the theological seminary and has written some books, including The Chosen. He and his wife, Karen, are blessed with two married children and one granddaughter.
Offering
Saturday, September 08, 2018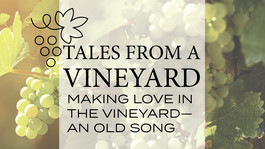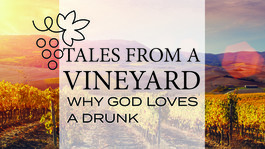 "Tales from a Vineyard: Cry Baby, Cry"
www.newperceptions.tv
»The Tale: I Kings 21
»The Truth: John 15:1-5
• Andrew Murray: "So close is the union between the vine and the branch that each is   without the other, that each is wholly and only for the  ." (Abide in Christ 30-31)
1."Without the vine the branch can do  ." (Abide in Christ 30)
2. "Without the branch the vine can also do  ." (Abide in Christ 30)
• Andrew Murray: "A vine without branches can bear no fruit.  No indispensable than the vine to the branch is the branch to the vine. Such is the wonderful condescension of the grace of Jesus that, just as His people are dependent on Him, He has made Himself on them. Without His disciples He cannot dispense His blessing to the world; He cannot offer sinners the grapes of the heavenly Canaan." (Abide in Christ 30)
3. "All the vine possesses to the branches." (Abide in Christ 30)
• Andrew Murray: ". . . all [the vine] has is at the disposal of the branches. As it is the parent, so it is the servant of the branches. . . . All [Jesus'] fullness and all His riches are for you, O believer; for the vine does not live for itself, keeps nothing for itself, but exists for the branches."
(Abide in Christ 30-31)
• Ellen White: "Having undertaken our redemption, He will spare nothing, however dear, which is necessary to the completion of His work. No truth essential to our salvation is withheld, no miracle of mercy is neglected, no divine agency is left unemployed. Favor is heaped upon favor, gift upon gift. The whole  of heaven is open to those He seeks to save." (Desire of Ages 57)
• "This promised blessing [of the Holy Spirit] brings all other blessings in its train . . . according to the riches of the grace of Christ." (Desire of Ages 672)
4. "And all the branch possesses  to the vine." (Abide in Christ 31)
• Andrew Murray: "The branch does not exist for itself, but it exists to bear fruit that can proclaim the excellence of the vine. It has not reason for existence except to be of service to the vine. . . . As Jesus gives Himself so wholly over to the believer, the believer feels himself urged to be his Lord's. Every power of his being, every moment of his life, every thought and feeling belong to Jesus—that from Him and for Him he may bring forth fruit." (Abide in Christ 31)
• "Now let your answer be, 'Amen, Lord! So be it. From eternity Christ and I were ordained for ; inseparably we belong to   . It is God's will; I shall abide in Christ.'" (Abide in Christ 47)
"All that You have is mine—
And all that I have is Yours."
December 10
Location: PMC Commons
December 14, 7:00 PM
Location: PMC Sanctuary
Children's Celebration of Christmas
Sabbath, December 15, Both Services
Location: PMC Sanctuary
Sabbath, December 22
Location: PMC Commons
Foster and Adoptive Family Info Sought
God's Hands 4 Kids provides care and support for vulnerable children, their caregivers, and workers. We would like to know who in our own church are foster, kinship or adoptive families. As part of the Berrien County Foster Adoption Network, a collaborative of government, private agencies and Gh4k, a monthly support group is held here at PMC that includes a free meal, children's activities and adult time. We also host several trainings a year. Email us at godshands4kids@gmail.com to let us know about your family and share if you have a specific need. May God bless you as you give of yourself and live out James 1:27.
Volunteers and Donations Needed
The Watervliet Migrant HeadStart center located at 745 N M 140 Watervliet, MI 49098 is a 501 (c) (3) private nonprofit organization that provides educational services to migrant and seasonal families that work in agriculture.We are currently seeking volunteers and donations. Volunteers are needed to come and read to children or lead in creative activities. Donations of diapers, unscented baby wipes and ready to use formula are welcome. Please contact Sanford Gomez at (269) 463-5610 or sgomez@telamon.org.
Sabbath School Quarterlies
Sabbath School Teachers: You may pick up your class's quarterlies and your teacher's edition at the lower level Welcome Center. Class members will receive your new quarterlies in their class so they do not need to pick up their own copy. Those PMC members not in a regular Sabbath school class may sign out one or two quarterlies for their personal use.
Bible Study Sabbath School
Looking for a quiet, thoughtful Sabbath School that dives deep into Bible study and encourages lively discussion? Join us Sabbath mornings, 10:30-11:30 AM, at Rachel Hall (the old IMC Building). We look forward to studying the Word with you!
Sabbaths, 10:30 - 11:30 AM
Loction: Rachel Hall
Contact: Anne Oyerly - aoyerly@hotmail.com
The School of Health Professions will be hosting a Cancer Research Forum by Dr. Benjamin Lau. He will present "Phytotherapy Maximizes Innate Immunity and Cancer Healing." Book signing will follow in Chan Shun Lobby. Free Admission (limited capacity). Click the link below to RSVP.
September 27, 3:30 - 5:00 PM
Location: Chan Shun Hall, Garber Auditorium
Pages