I Have a Heart for...
I Have a Heart for Including Generations
Downloads
Speaker
José Bourget
Originally from the Dominican Republic, José Bourget grew up in a small Hispanic church in Detroit, MI. They empowered him to give all for God's Kingdom. Since then José has sought to engage others to do the same. He believes the world needs people who embrace the uniqueness that their Creator gave them to bring healing and hope.
Offering
Eventide—a time to celebrate the close of our Creator's Sabbath.
November 17, 5:00 PM
Location: PMC Youth Chapel 
Adventist Retirees Christmas Banquet
Senior members of the Pioneer Memorial Church and the Village SDA Church are cordially invited to a Christmas Banquet at the Fellowship Hall of the Village SDA Church. Reservations must be made by calling Claudia Sowler at (269) 471-3134. Please leave the name(s) who will be attending, contact number and the name of your church. The deadline for RSVP is Friday, November 30 at Noon.
December 9, 1:00 PM
Location: Village SDA Church
Contact: Claudia Sowler - (269) 471-3134
Hundreds of used Adventist books, pamphlets, periodicals, Ellen White books, audio-visuals, and more on sale at $1.50 and under (with a few exceptions).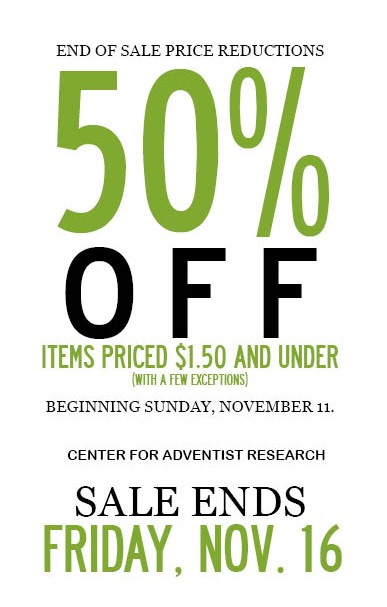 Pathfinder Apple Pie Fund-Raiser
If you pre-ordered an Apple Pie from the Pathfinder club and were not able to pick it up last Sunday you can pick them up this Sunday from 11:30-3:30. If you need to pick it up as some other time please email pathfinders@pmchurch.org and we can schedule an alternate time. If you didn't pre-order a pie, we have a limited quantity of extra pies for walk in orders at the same time.
Sunday, November 18, 11:30 AM - 3:30 PM
Location: PMC
Michiana Adventist Forum Meeting Today
"Of Beards and Bonnets and Other Tales from Battle Creek: A Report on Annual Council, 2018" with a panel of attendees and observers from the Berrien Springs community.
November 17, 3:30 - 5:00PM
Location: Biology Amphitheater, Price Hall
Due to Thanksgiving our offices will be closed from Wednesday, November 21, until Friday, November 23. We will reopen on Monday, November 26 at 9 AM. Have a safe and Happy Thanksgiving!
Thanksgiving Food Basket Delivery
The PMC Evergreen Pathfinder club needs your help to deliver the Thanksgiving Food Boxes we are making today. If you can help by delivering the food boxes please come this afternoon at 4:30 to the PMC main entrance (green awning) and pick up names and boxes to deliver throughout the community. Thank you for being a part of this PMC family service opportunity.
Annual 'WE SING' AU Voice Vespers
Support the Andrews University Department of Music voice students in the annual voice vespers. Always a heart-warming time of worship, this vespers features wonderful settings of beloved hymns, spirituals and scripture. Come and take part in the blessing!
Friday, November 16, 7:00 PM
Location: Howard Performing Arts Center
Wind Symphony Christmas Concert
Christmas starts early this year as the Andrews University Wind Symphony presents "Christmas Around the World" on Saturday, November 17, at 8pm in the Howard Performing Arts Center. Holiday music from around the world will be featured, including Russia, Spain, Canada, England, the United States, Israel, and medieval Europe. The AU Woodwind Quintet and AU Chamber Winds will also be featured, along with several graduate conductors. Come kick off the holidays with us!
November 17, 8:00 PM
Location: Howard Performing Arts Center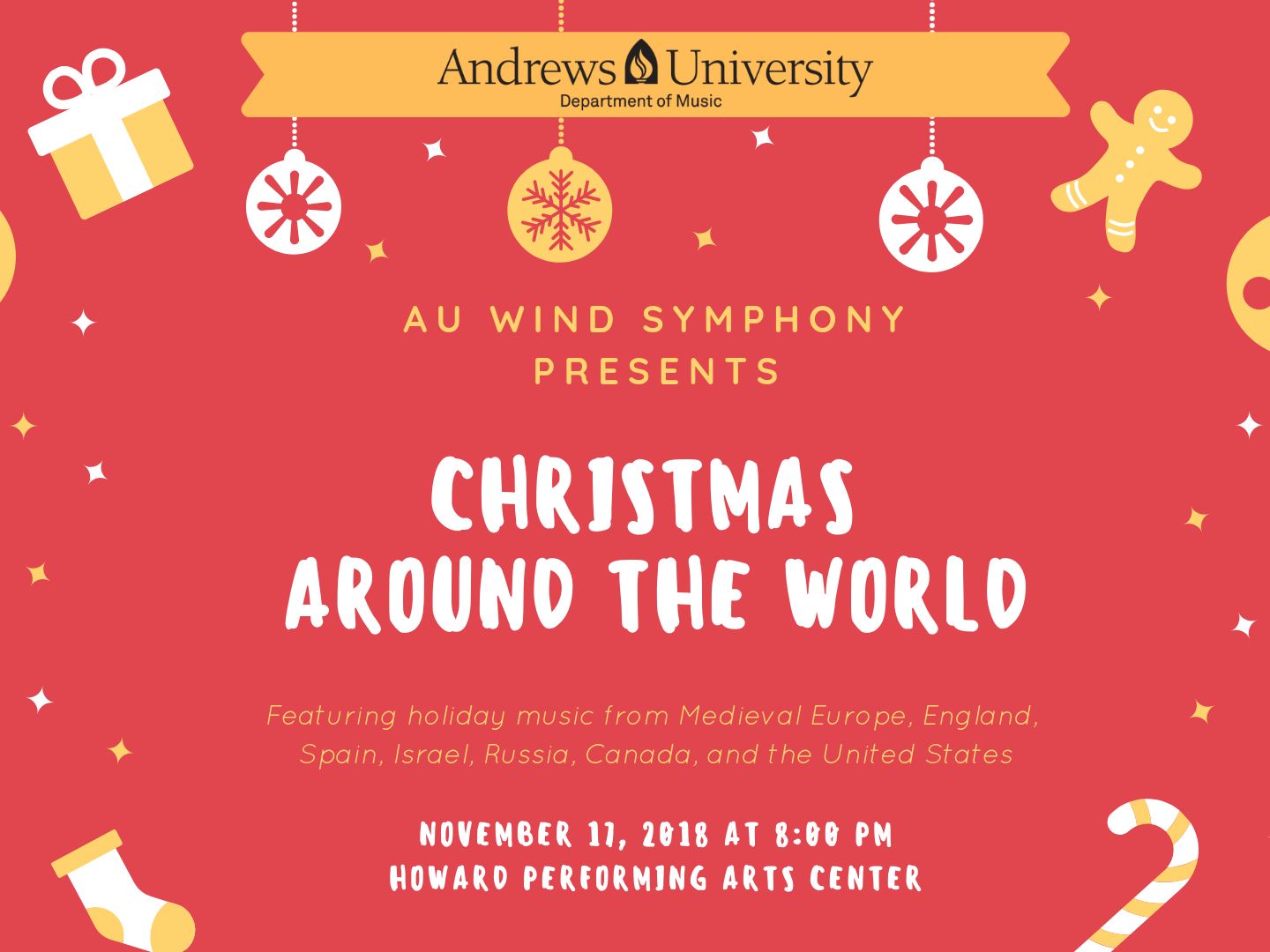 Thanksgiving Food Collection
The PMC Evergreen Pathfinder club is starting its annual food today. We will be passing out bags in portions of the community today and collecting the filled bags on Sunday, November 4. You may also plan to bring food to church on Sabbath, November 17, as part of the offering during Hymn Fest. If you know of a family in the area who could use some extra food this upcoming holiday season please call the church office at (269) 471-6565. We need their name, address, phone number and number of people in their family. Thanks for your generosity.
Pages